The Team
Meet the team at Somerset Health Practice. If you have any questions or would like further information regarding specific areas of expertise, please don't hesitate to call us on 01458 860392 or email info@somersethealthpractice.co.uk.
Matthew Jackson
BSc (Hons) Ost, Dip Ac/CHM (China), Pg Dip CHM (OB/GYN), Pg Cert US (MSK) MRCHM, BMUS
I trained as an osteopath at the London School of Osteopathy and am registered with the General Osteopathic Council and the British Osteopathic Association. I hold a Post Graduate certificate in Musculoskeletal Diagnostic Ultrasound and am engaged in a Masters level qualification at the Centre of Ultrasound Studies in Bournemouth
I trained in acupuncture and Chinese herbal medicine in 1993 at the London Academy of Oriental Medicine. I then studied for a further eight months in Nanjing China, working in hospitals alongside renowned Chinese professors treating a wide spectrum of conditions and diseases.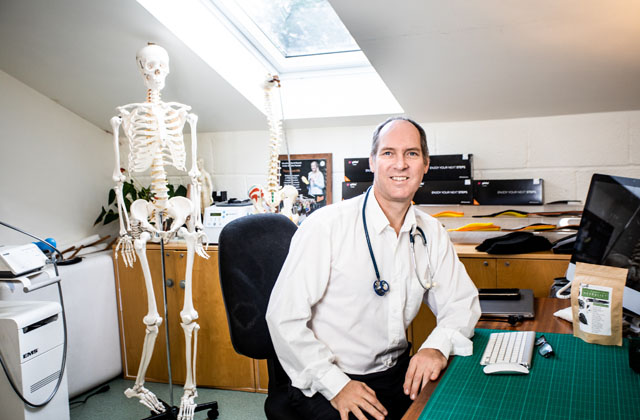 I belong to the register of Chinese Herbal Medicine and previously a Council Member. My passion for herbal medicine has inspired Expert Herbalist a place where many of the clinics favourite and effective prescriptions can be found. I am also a Fellow Member of the Royal Society of Medicine (www.rsm.ac.uk).
I hold a post-graduate diploma in Gynaecology and Obstetrics and am an Associate of the Woman's Natural Health Practice, Harley Street, London.
I am interested in biomechanical issues that can affect long-term recovery from chronic and acute pain syndromes. I prescribe custom orthotics or temporary solutions.
I have experience treating many different conditions, but my interests include musculoskeletal conditions, specialising in shoulder issues and chronic lower back pain. Another interest is the treatment of gynaecology issues and infertility and I'm regularly updated with knowledge of the latest methods and research by Dr Trevor Wing's Clinic, the 'Woman's Natural Health Practice'.
I also have an interest in developing new approaches to care of autoimmune conditions, reactive arthritis including rheumatoid and other types of joint pains, hypothyroid issues and prostate cancer.
Becky Bliss
RGN B.C.S.T.
I trained in Biodynamic Craniosacral Therapy at the Karuna Institute with Franklyn Sills and his other highly experienced teachers. I treat a wide variety of patients with patterns of pain and emotional resistance which can remain held consciously or subconsciously within the body.
I have been a registered nurse for over twenty years working in many clinical environments from heart trauma to within the community and based from doctors surgeries.
I am also trained in shockwave therapy and have an interest in Platelet Rich Plasma (PRP) and Prolotherapy for the management of pain conditions and its use in scar and skin regeneration.
Lina Morton
MSc (Counselling), BSc (Hons)Psych, Cert.Ed. MBACP, MBPS, MBSCAH, Member NHS Directory of Complementary and Alternative Practitioners
I trained at Bristol University (www.bris.ac.uk) as an Integrative Counsellor, which means I am skilled in helping people to achieve a broad range of objectives using different theoretical models. I offer professional support in a safe and confidential environment.
I am an accredited member of the British Society of Clinical and Academic Hypnosis (www.bscah.com). I practice hypnosis within a psychological and counselling framework.
In the context of fertility issues, hypnosis enables deep relaxation, which can help to create the optimum condition for the body to respond to treatment.
In childbirth, hypnosis training prior to delivery diminishes anxieties and fears and reduces pain without interference to the physiology of mother and child. Hypnotic techniques can enable pain control. Labour and delivery can be enjoyed in a relaxed and controlled way.